Welcome to the Seaside Pavilion!
**** The Seaside Pavilion local box office will close at 3pm on Friday, July 3rd to allow our staff to spend time with their families before the concert on Saturday. See you on Saturday at 6pm! ****

Don't miss our next concert with the Seacoast Wind Ensemble. Saturday, July 4, 6PM. Enjoy an evening of American and Patriotic music. It's FREE, so get here early to get a good seat. Parking begins at 4:30, gates open at 5:00 and the band takes the stage at 6:00!

Items not allowed on Seaside Pavilion Campus*

• Weapons of any kind, including small knives and pepper spray.
• Backpacks/Cinch Bags
• Brief Cases
• Coolers
• Purses/Bags larger than 8" X 12"
• Seat Cushions will be allowed after inspection
• Camera Bags
• Selfie Sticks
• Any food or beverage not purchased or distributed by the venue

*All bags regardless of size are subject to inspection by Seaside Pavilion personnel.

Thank you for respecting our beautiful venue.


Season and Group Tickets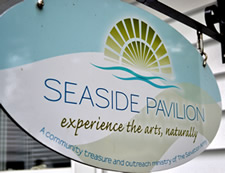 Season Tix are available for select concerts. For more information please call the Seaside Pavilion office during Box Office Hours.

For Box Office hours, click on About Us tab above, then Ticket Information tab on the left. Thank you!



Copyright © 2015 - Seaside Pavilion • Site by Verse Technologies - Portland, Maine